With the accelerated digitalization of most industries in the business world, the need for fast access to the right technical talent is essential. However, hiring and training new staff can take time, which is something companies don't always have, especially if they want to stay ahead of the competition. For that purpose on the market appear various models of cooperation with a software provider. Team extension and a dedicated development team are considered to be the most popular and the most beneficial approach for the development projects of many businesses.
Key differences
Before we deep dive and discuss the team extension model and what you can expect from Intertec, it is crucial to make a distinction between the dedicated development team and the team extension model.
Dedicated Development Team (client point of view)
You have no control over how the team works, and you only get to see a demo of the project/product.
In many cases, you only communicate with the project/product manager of the team.
You hire a complete team of experts to develop your project/product.
Team Extension (client point of view)
Keeping control over the whole team – developers with the missing expertise complement your already existing team
Developers who dedicate 100% of their time to supporting the company's goals for long periods.
Direct communication between you, your employees, and the TE specialists.
Team extension
Team extension is hiring an additional, cost-effective wing of remote specialized developers who work as an in-house extension to your already existing team. Team extension aims to create long-time collaboration between two parties.
An extended team is like a team next door, which is not-project based and not discontinued after the project ends.
Advantages

Access to skilled developers
The primary purpose of team extension is to provide businesses with seasoned developers with diverse skill sets and technology knowledge. The in-house recruitment process can last for months, and the result might not be as expected. That is why partnering up with a company that offers team extension as a service might be the best choice. You will have access to the components that you are missing in your in-house development team, and you can begin your project.
The team extension model enables software development companies and clients to negotiate the terms of cooperation. Also, it allows them to provide their clients with the right mix of developers depending on their needs, and regardless of where they are.
By partnering up with experts in this model, you won't have to worry about salaries, taxation, perks and benefits, workspace, or other issues when you hire someone internally on a full-time basis. The other party will take care of those for you.
Direct communication, transparency, and trust are an integral part of any successful long-term collaboration — and that's exactly what you get with staff augmentation. There will be no intermediaries between you and your developers: you can communicate your requirements directly to them and solve any issues that may arise along the way.
One of the benefits of having an extended development team is that your remote engineers will be dedicated to and fully invested in your project. As a result, they will get things done quickly and efficiently.  By sharing and distributing tasks among themselves, your engineers will get more work done in less time.
The Result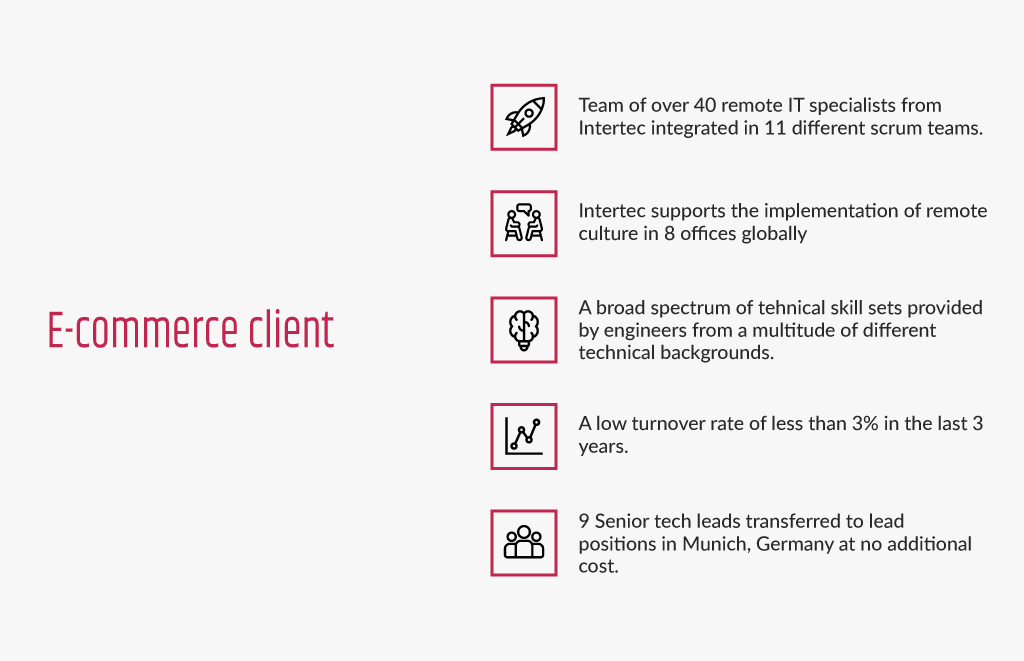 At Intertec, we combine our technical expertise and engineering talent and deliver your innovations to market, whilst sharing your values and challenging your idea. To learn more about the team extension model at Intertec, get in touch by filling out the form or contact our experts to discuss your options.